tyle="width:100%; height:550px;" class="mceEditor">As an aspiring boxing scribe nothing really compares to covering a fight live at ringside.  There are sights, smells, and a palatable buzz that just doesn't get conveyed when watching at home on the television.  The best examples of these sensory explosions are generally are produced by the small local club show that is as far removed from the homogenization of prime time television production as you can get.  It has been a busy month in terms of boxing here in North Texas.  Last Thursday was the area's second professional fight card and if you couple that with this weeks regional Golden Gloves tournament, well my friends, let's just say that life is good right now. In keeping with my theme, I kept another running diary of my coverage of last Thursday's fights.  So without further ado, enjoy!  6:45 PM – After a 45 mile, 2 hour commute from my home in east Dallas to downtown Fort Worth I finally arrive at the Cowtown Coliseum in the historic Stockyard district of the city.  I quickly find parking and proceed to the box office to pick up my media credential.  The lady at the box office has no record of me but informs me that I should talk with somebody at the door.  I do just that and am relieved to see that they do have me down and I am issued my credentials.  7:00 PM – Cowtown Coliseum is generally used for rodeo shows as evident by the dirt floors inside the arena.  I silently curse the fact that I wore my good Italian leather shoes to the event but I manage to suck it up to bring you the audience local coverage.  I make my way to the press tables, two long tables that run along the ring apron.  There is a surge protector for those who opt to bring their laptop but in my travels I have learned that it is best for me to just bring a notebook to cover the proceedings.  After all it's local. 7:05 PM – I am the first writer there and spend some time speaking with freelance photographers Edward Garza and John Anthony Escobar.  Garza and I speak at great length as we both share the same drive to make names for ourselves in our respective fields as well as cover this sport that we hold so dear.  Garza even goes as far as offering my some pictures he will be taking of the fight for free.  It's a huge offer and one that I am more than appreciate of.  7:12 PM – Wayne Harrison of the Harrison Boxing Group, tonight's promoter, comes over to talk with the photographers as well as to congratulate me on the piece I did about two of the fighters on the card (you can read it in my latest North Texas Notebook article). 7:15 PM – Trae Thompson of the Ft. Worth Star-Telegram arrives in press row.  Trae is the only writer for a major area paper that covers these fights and we exchange pleasantries.  Trae informs me that Wayne Harrison had stated that the fights will start promptly at 7:30.  I laugh and tell him that boxing cards never start on time. 7:20 PM – I look over to my far right and see the referees assigned for tonight stretching out in the corner.  I often wondered if referees every got tired in the ring and it appears that this is how they keep from having their legs fatigue over the course of a fight.  I also notice the ring cards make their way to our area with their handlers. 7:30 PM – The lights dim and we are under way.  It's refreshing to see a card start on time.  I look around to see that we have a real good turnout.  Even the more expensive ringside seats are all but sold out.  I chalk it up to the Harrison Boxing Group landing some real big sponsors such as Coors.  With money comes advertisement and I have been hearing adds for this show on the radio which is great news.  7:35 PM – A local Boy Scout troop presents the flag while the National Anthem is played over the loudspeaker.  The crowd erupts at its conclusion. 7:45 PM – The first fight is underway pitting James Freeman of Vernon, TX against Victor Flores of Fort Worth who happens to being turning pro on the card. 7:48 PM – I now notice that I am in the enviable position of sitting right next to where the ring card girls enter the ring.  It takes all type of will power not to be distracted by the beauty making her way up the steps but I'm not going to lie, I shot some quick glances.
8:00 PM – The first fight is a darn good scrap with lots of blood and guts as well as a knockout victory.  In fact I look down to see that my notebook and bag have absorbed some pugs sweat and again I question my decision to wear my good clothes.  8:10 PM – Keeping it moving, the next fight is announced as the fighters make their way to the ring.  The second contest features local star Franco Dunmoodie taking on Andrew Acosta of Houston.  The reception for Dunmoodie is deafening as the crowd clearly show their adulation for the local fighter.  Jesse Rodriguez of 15rounds.com has now joined us in press row along with local boxing figure Ex Alba.  Rodriguez is a fighter turned writer and is always good for conversation at these events.  Alba is as knowledgeable as they come in regards to the local boxing scene having spent many years engulfed in it.  He also seems to know every local boxing figure in town.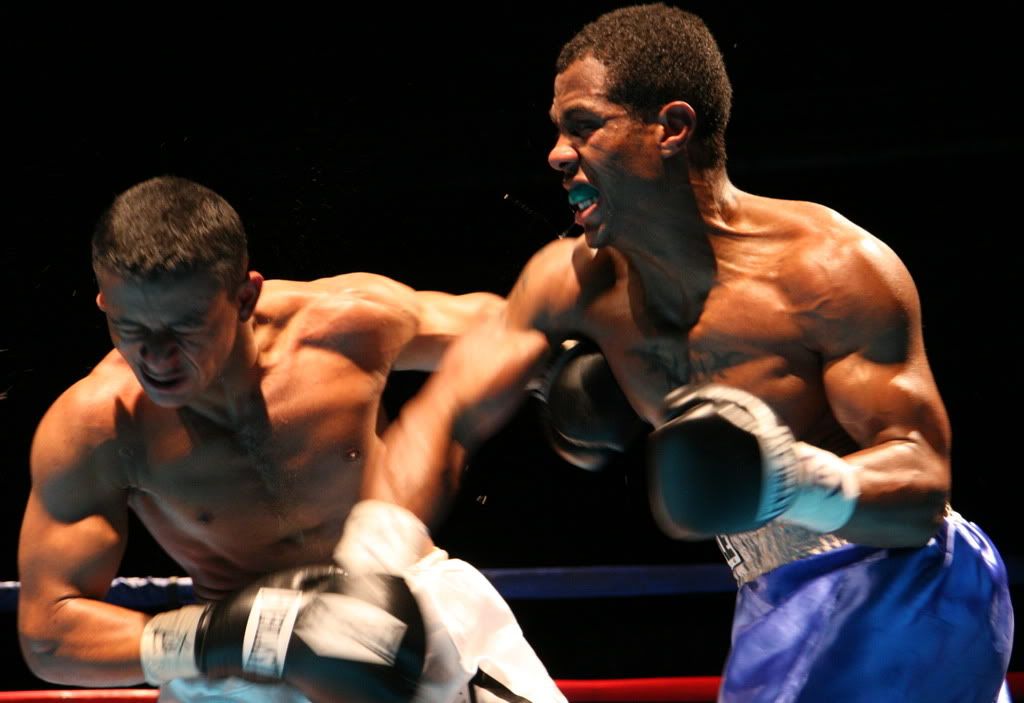 8:30 PM – The fight was close but Dunmoodie landed the harder shots to secure the victory.  Taking a page out of the "give the people what the want" playbook a post fight interview is conducted with Dunmoodie in the ring and broadcast over the loudspeakers.  I must say that I am impressed.  8:50 PM – The next bout is underway pitting Anthony "Hurricane" Smith of New Orleans against Miguel Delgado of Dallas.  Smith has all the hype behind him and it's clear that he is the favorite in the contest but Delgado is proving to be a difficult nut to crack.  Despite all of 9 professional fights Delgado employs a laundry list of cagey veteran moves that seem to frustrate and befuddle Smith.  Jesse and I joke that Delgado looks like he just turned 50 despite that he claims to be the same age as me at 28.  8:55 PM – What we have here is an ugly foul filled clinch fest but Smith, the busier of the two, gets the nod.  Not one of Smith's better performances. 9:00 PM – An intermission is in place with a great selection of music blaring through the PA.  I find that we in press row are slow to realize that two smoking hot promotional girls from Xtreme Energy Drink are gyrating on a makeshift stake not five yards from us.  I joke that I feel like I'm at the Spearmint Rhino but every man in attendance is thoroughly entertained. 
9:20 PM – A great fight is currently playing out with Josh Burns or Garland, TX taking on Leo Herrera of Dallas.  I mean we are talking about a bloody back and forth brawl that is whipping the crowd into frenzy.  Sweat and blood shower those of us ringside as each fighter stands and trade like it is their version of Gatti-Ward.  For six hard rounds, each fighter swaps leather until the final bell tolls.  In the end Herrera pulls out the unanimous decision to the giddy delight of the partisan crowd. 
9:40 PM – We have heavyweights in action as Shug Dorsey is taken to task against Johnny Deas.  Dorsey of Fort Worth is a local celebrity following his highlight reel knockout victory at the local Golden Gloves tournament this past year.  Deas seems cognizant of Dorsey's power and pulls out all stops to avoid exchanging with the bigger fighter.  The result is a clinch-a-thon that has the crowd booing Deas throughout.  After four slow rounds Deas is awarded the victory to the dismay of the crowd.  Deas drops to his knees in tearful celebration and then proceeds to engage the audience in some taunts.  It was the most action witnessed from Deas all night.  9:50 PM – The evening's headliner Jose Orozco of Fort Worth makes his pro debut a memorable one as he blasts out John Campbell of Houston in one round.  As the crowd explodes in deafening euphoria Jesse, Trae, and I exchange impressions of young Orozco.  The general consensus being that he may have the tools to be a legitimate star in the sport. 
10:00 PM – Jesse and I make our way into the dressing rooms to speak with the fighters.  Jesse chats up Herrera's trainer while I watch Smith play with his young son.  Everyone seems to be in high spirits given the nights fight.  I walk over to Dorsey who is getting dressed and talk him up a while.  Dorsey is visibly upset about Deas unwillingness to actually try and fight him but does admit that he should have had a better plan of attack.  Still that did not prevent him from launching a string of obscenities directed toward Deas.  10:15 PM – I make my way out of the dressing room and walk back ringside to try and talk with Wayne Harrison who is busy with Texas Boxing Commission head Dickie Cole as well as some other officials.  Instead Jesse and I opt to talk with a camera man for a local documentary entitled The Sweet Science that is chronicling a local gym in Dallas.  We also chat up some fans that are giddy that they stumbled onto tonight's card and we talk boxing as Jesse and I plug our respective websites.  10:30 PM – I make my way to my truck in the bitter chill of the night dreading the journey that I must take to get back to my home.  Still I am elated that boxing is becoming more prominent in the Dallas-Fort Worth area as this is the second live fight in as many weeks.  Yes, our sport is not dead but there seems to be a resurrection of the sport in my neck of the woods.  All photos courtesy of Edward Garza