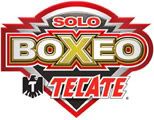 The economic woes of today's modern world continue to weaken our beloved sport of boxing.  The latest victim of our nations financial trouble is Telefutura's acclaimed boxing program, Solo Boxeo.  The weekly boxing show, which aired every Friday, had quickly became a staple in many fight fans weekly fix for the sweet science, showcasing some of the sports highly touted prospects.  Superstars such as Miguel Cotto and even Kelly Pavlik were showcased as up-and-coming prospects under the lights of Solo Boxeo.
But to most of us, times are tough and even television conglomerates are under the gun.  Citing the high cost of producing the show, the license fee alone was $60,000 a show, Telefutura's sister company Univision opted to pull the plug this week.
It is a big blow to boxing fans here in America, especially those of us who live in America.  Earlier this year, ESPN announced that the have canceled their Wednesday Night Fights series.  So in the span of a few short months, we have lost two weekly boxing telecasts that were on free cable.  Obviously these are a sign of the times, and in no way reflect any waning popularity in the sweet science.  In fact Solo Boxeo was one of Telefutura's highest rated shows, but as in most things in life, it comes down to money.
Of course, the million dollar question posed is who will now subsidize Golden Boy's smaller local shows?