Boxing is not a sport whose participants are known for their sense of style. For every Chris Eubank or Oscar De La Hoya, there are a thousand bemulleted and corn rowed RJJ dressalikes.
Maybe it's a function of the sport's working class roots. Maybe getting punched in the head leads to poor choices at the barbershop. From mullets to frullets to everything in between: Here is the inaugural Raymond Joval Award for the Worst Haircut in Boxing.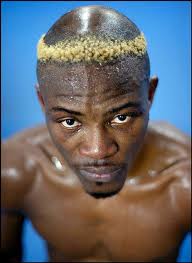 (The man, the legend, former Dutch middleweight and owner of the worst haircut ever: Raymond Joval.)
THE NOMINEES
Antonio Margarito
Margarito's seedy Tijuana mullet is perhaps the highest profile version of a haircut that's quite the fashion among some Mexican boxers. While not as disgusting as some other incarnations, I just am not a fan of Margarito. The mullet proved its usefulness during the Shane Mosley fight, allowing fans to tracks Tony's head movements as he was viciously pounded by Sugar.
Ceferino Dario Labarda
(Labarda and his beautiful hair getting pummelled by Steve Molitor.)
Featherweight fringe contender Labarda owns losses to Steve Molitor and Billy Dib. His epic take on the mullet, shaved on top with a long and curly back, was the only thing that got me through his bout with Dib.
Darling Jiminez
(Is it corn rows or is it a mullet? Who cares, kill it with fire.)
Jiminez, who put Yuriorkis Gamboa down in their 2008 clash, makes the list for his innovative corn rows/mullet combination. He hasn't fought since losing via UD to Gamboa, so it saddens me to speculate that the boxing world may never see this hybrid again.
Paulie Malignaggi
(With all that gel, the sweat band is clearly superfluous.)
Paulie's freaky Jersey Shoresque tan and hairdos are the stuff of boxing legend. Now that he's inked a deal with Golden Boy, we will all have the pleasure of seeing his pitter pat fists and barbershop nightmares for years to come.
Bernabe Concepcion
(There's something on your head dude!)
Okay, maybe Concepcion's weird birds nest/lego man hairdo isn't all that bad in the scheme of things. And maybe JuanMa's haircut isn't that great either. But you'd have to admit, he looks pretty ridiculous.
Arthur Abraham/Tomasz Adamek
Eastern European badasses Abraham and Adamek get a spot for their services to thinning hair. Both men have strange, semi barren patches at the front of their heads which look like Siberian forest after the Tunguska event.
And the winner of the inaugural Raymond Joval Award is…
Paulie Malignaggi!
You just can't overlook Paulie's years of service to bad hairdressing. From his crazy blond tips to his unforgettable hair extensions (which required a bit of mid fight hairdressing), no one could hold Paulie back from taking out the coveted Raymond Joval award.