If those long-promised time machines ever come out and you get bored of dinosaur safari trips or punching a young Hitler in the ribs, you could do worse than take a ride back to early 2015.
Back then Donald Trump was still a relatively harmless figure of fun, the U.K. was still safely in the E.U. and Gene Wilder, Carrie Fisher and Muhammad Ali were still with us.
Back then, "The Fight of the Century" was just around the corner and after two exciting fights with Marcos Maidana, you could imagine Floyd Mayweather breaking the record for the most wins by an undefeated fighter with two close Manny Pacquiao fights and maybe a match up against someone like Timothy Bradley, Amir Khan or Keith Thurman.
But just like everything else in the world that has gone batshit insane recently, Floyd will instead break Rocky Marciano's 60-year record against a guy making his boxing debut.
While we settle in for the potentially decades-long wait for someone else to break that record, here are some more to keep an eye on.
Most Professional Fights
The most pro fights on record is 470 by lightweight Len Wickwar (below, via BoxRec) from Leicester, England.
He made his debut at the age of 17 in October 1928 where he knocked out Jim Young Shepherdson. Over the next 12 years he stepped into the ring for an average of around 40 fights a year, or three a month, fending off colourful characters like Spud Murphy, Billy Clinton, Jack Hammer, Dodo Williams and "Seaman" Frank Read.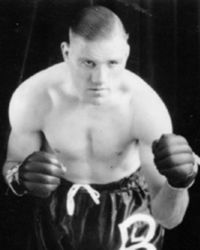 Early in his career, he fought three times in one night, defeating Tommy Cann, Len Swinfield and Bobby Wood on points on Feb. 8, 1929.
Forced to take a six year break from the ring to fight in World War II, Wickwar returned to the ring in 1946 for five more fights, bringing his all time record to 340 wins, 87 losses and 42 draws.
Here he is fighting Eric Boon (who looks eerily like Ricky Hatton) with commentary from the most English man in history.
With such a massive number of fights, he may well also hold the records for the most pro wins and the most pro draws.
Wickwar's stablemate, George "Tish" Marsden from Nottingham, struggled to keep up with only 336 fights (195-101-40) to his name. Oddly enough, both Wickwar and Marsden died on the same day, June 1 1980.
Most Professional Defeats
Although Boxrec only give him a record of 17-33-6, Italian American Joe Grim is rumoured to have had more than 300 fights, the vast majority of which were defeats.
He had a reputation in the opening years of the 20th century as a "Human Punching Bag" that could not be knocked out. He was described as the Iron Man, although today he be said to suffer from "Homer Simpson Syndrome."
After he could not knock the 150 lb. Grim out, Jack Johnson said after facing him that "I just don't believe that man is made of flesh and blood."
There were calls at the time for Grim to be banned from the sport, which one paper saying "to let a giant hammer a poorly conditioned youth is to degenerate the ring into an abattoir."
Yet Grim's record pales in comparison to some modern-day fighters like Peter Buckley, who won his 300th fight and retired with a record of 32-256-12, and Kristian Laight, who is still active with a record of 12-238-7.
The all-time "biggest loser" is Reggie Strickland (below, via BoxRec), who retired in 2005 after 18 years as a pro having had 363 fights, 276 of which he lost. He would often lose a fight then be back in the ring within days to lose another and on a few occasions he had nine fights in a single month.
Tallest Titleholder
At 6'6.5″, the "Pottawatomie Giant" Jess Willard was the tallest fighter to win a world title from 1915 right up until the 6'7″ Vitali Klitschko won a title 89 years later in 2004, closely followed by 7′ Nikolai Valuev the following year.
What is much harder to figure out is the tallest fighter ever to step into the ring. Boxrec lists Jim Cully from Tipperary, who had just six fights in the 1940s, as being 7'2″.
Romanian Gogea Mitu (pictured, top, via BoxRec), listed as 7'4″, who had just three fights in the 1960s, may be the tallest on record, although there are rumours of taller men that have taken part in exhibition bouts.
At 4'10", South African flyweight Baby Jake Matlala is the shortest title-holder in history.
The shortest ever boxer may be 4'8″ Englishman Paul Lowe. A stuntman who appeared in "Harry Potter," "Game of Thrones" and "Fast and Furious 6," Lowe was to make his debut in 2009, but after the fight fell through it's not clear if he ever had a pro fight.
Heaviest Titleholder
The "Beast from the East" Valuev also appears to be the heaviest title-holder in history, reaching a peak weight of 328 lbs. against Monte Barrett, who weighed in at 223 lbs. In his confusion, Barrett decided his best bet was to pick on someone his own size and clocked the referee.
(via ESPN the Magazine)
Eric "Butterbean" Esch, broke a set of scales at the weigh-in to fight Kirk Lawton in 2013. He weighed 193 kg (425 lbs.) a week earlier. Butterbean retired after just two rounds into the fight against Lawton, who was more than 150lb lighter.
Dustin "Worm" Nichols may yet beat this record. He weighed 398 lbs. when he retired after one round with Deontay Wilder in 2010.
Oldest Titleholder
Most know that Mike Tyson was just 20 when won the WBC heavyweight belt in 1986, yet the youngest holder of a world title in history is Puerto Rican Wilfred Benítez, who won the WBA junior welterweight belt aged just 17.
The oldest fighter in history seems to be English cruiserweight Steve Ward who turned pro in 1977 and came out of retirement for a bout in 2015 at the age of 59.
The oldest title-holders in history are well known. The current record holder is Bernard Hopkins, who lost his titles to Sergey Kovalev in November 2014, just two months shy of his 50th birthday. Had he managed to overcome Joe Smith, Jr. in December, he would have held a belt at the age of 51 years, 337 days.
Before Hopkins, 45-year-old George Foreman was the oldest fighter to win a title after he knocked out Michael Moorer, who was 19 years younger, in 1994.
Most Knockout Victories
Archie "The Old Mongoose" Moore is also one of the oldest world champions in history, having beaten Joey Maxim to become the world light heavyweight champion. He said that he was 36 at the time, although his mother suggested that he was in fact three years older than he thought.
If you take his mother's word for it, he would have been 41 when he managed to knock down Rocky Marciano in 1955 and 48 when he fought 20-year-old Cassius Clay in 1962.
What's more impressive though is his record of 132 knockouts from 220 fights. He even managed to knock out final opponent Mike DiBiase in 1963.
If his mother was right, he finished his career with a knockout only a few months before turning 50.
Longest Fight
The longest fight on record was fought between lightweights Andy Bowen (above, via Wikipedia) and "Texan" Jack Burke in New Orleans in April 1893.
The fight dragged on for 110 rounds and more than seven hours. As the fight continued into the early hours of the morning, Burke broke both of his hands and wrists.
Eventually the referee declared the fight a draw and decided that the battered Bowen and Burke could split the purse. It was later revealed that both fighters had lost nearly 10 pounds from the lengthy bout.
Burke continued fighting until 1900, but Bowen's life was cut short when at 27 he died in an accident in 1894. He fractured his skull after hitting his head on the wooden canvas after being knocked down by George "Kid" Lavigne.
Guinness World Records lists the greatest number of rounds as 276 in a fight between Jack Jones and Patsy Tunney in Cheshire, England in 1825. The fight lasted four and a half hours.
In March last year, GWR awarded Aussie businessman Rod Walker (below, via GWR on Twitter) the record for most consecutive boxing rounds, after the 59-year-old completed 127 rounds against 23 opponents (including Nigel Benn and Saiko Bika) in Sydney, Australia.
The charity challenge took over eight and half hours and helped Rod to raise nearly $200,000 for the Sydney-based Fusion Families Program.
Many of these records are disputed. If you believe you have proof of one being beaten, please let us know (with links) in the comment section.